Life has been crazy busy! Working for Living Classrooms has been really fun, but a lot of work! I worked for two weeks straight, once our overnight trips started. This weekend was the first time I've had more than a single day off in a week.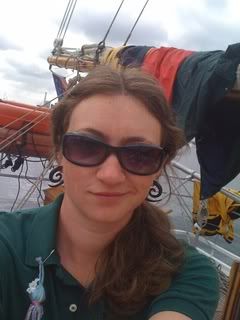 Me aboard the Sigsbee!
The Sigsbee is an historic skipjack built in 1901 and originally used for oyster dredging. She worked for about 90 years, until she sank in 1991 and was eventually rebuilt by Living Classrooms. Some pieces of her are original, including the wheel.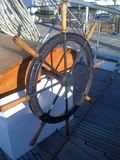 There are several other boats in the educational fleet, including the Lady Maryland.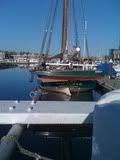 The Lady Maryland as seen from the stern of the Sigsbee.
Mostly, we do day trips from about 9 to 2, with some time before and after trips being devoted to getting the boat ready and put away, as well as cleaning and polishing. When I started the job, we spent two weeks doing training, which included lectures from various people involved with Chesapeake Bay restoration and management, a visit to Fort McHenry, and lots of time on the boats learning how to sail.
My coworkers at Fort McHenry.
Some canons at Fort McHenry, and in the background, the Patapsco River, which we sail on. Since we sail by Fort McHenry, it was good to get some background on it. Often, we'll devote some time to telling the kids about the history of the fort and it's connection to the writing of the Star Spangled Banner. It's weird to know all this Baltimore history now. I hate US history, but I can tell you allllll about Fort McHenry.
Another thing we talk about, are all the different boats in the Harbor.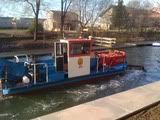 This is one of the Baltimore City fleet. It's a trash boat and has a conveyor belt in the front to pick up trash out of the water.
Another boat we might talk about is the USS Constellation, the last all sail ship built by the navy. She's now docked in Inner Harbor and is a museum that is managed by Living Classrooms. If one of our trips gets rained out, we can always take the kids there. She's got several decks, and it's pretty cool to check out.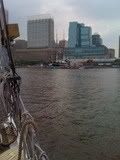 The USS Constellation from the bow of the Sigsbee. This was as the Constellation was being towed from the pier so that she could turn around.
Sometimes, we do overnight trips. We've done some girl scout trips and a John Hopkins CTY trip to Camp Whippoorwill, which is a girl scout camp on the Magothy River, to the south of Baltimore. We also did an overnight trip to Annapolis and we docked in the Annapolis Harbor.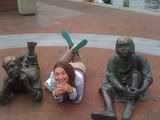 Me posing with a sculpture in downtown Annapolis.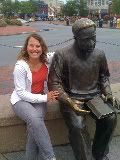 My co-worker Tanja, posing with the other half of the sculpture.
So, that's my work update. As far as my social life is concerned, very little goes on in that front as I spend most of my time working. CJ's birthday was the 13th of May, so I got him a BBQ and had a surprise party for him.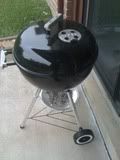 It's a weber. Nothing fancy, but they make yummy food, so who cares?
BBQ's are our new social event. I love summer and I love grilled meat. I am so excited that the weather is nice, but sometimes it's a bit too hot. At work, there's no escaping the heat or the sun, so it's a little brutal. CJ finally got a car though, so I don't have to ride the bus home anymore. I am very excited about that, since the last time I rode the bus home, on Friday, I watched a woman get hit by a car. It was slightly traumatic and I am glad that I won't have to sit at bus stops anymore, watching stuff like that happen.
I am working on planning my trip to Oregon for Rachael's wedding. I will be there from the 13th to the 19th ish. I just need to figure out whether I want to fly into Portland or Medford.
I think that's the end of my updating now. I will try to be better about blogging, but with the summer season impending, we'll see how that goes. Summer trips are anywhere from 5 to 9 days long, so it's going to be a little crazy.