This weekend, I took a few days off of work and headed over to Bend to visit Annie. Saturday was her engagement party, so I helped her do some cleaning in order to prepare for the party. I also spent most of Friday baking, as I was making her cake for the party. Well, actually, cupcake cake. I had made my design based on her color scheme and we came up with the idea for a series of cupcakes made to look like a bouquet of flowers.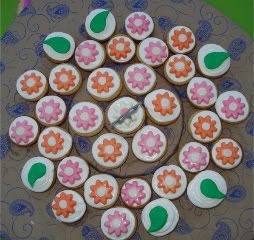 As there were several people there who were a specific type of vegetarian who don't eat eggs, I also had to make separate began cupcakes. The cupcakes with leaves on them, were the vegan ones, while the rest were just regular cupcakes. They were all spice cake, with cream cheese frosting. The flowers were all molded (by hand, I might add!) white chocolate.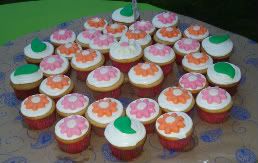 All in all, it was a lot of work, but a fun party. I definitely didn't work that hard for my graduation party, but that was a daytime BBQ. Night time events are traditionally more fancy...but still. CJ and I aren't even planning on having an engagement party, so...
Now that it's Monday, it's back to work. I have this week and next week and then I am done at PISCO. I am glad to be able to work through mid-September. This way I actually get almost a full paycheck at the end of September. My goal is to have a job by the beginning of October, but I am not sure that will happen.
I have been doing a lot of on-line applications for jobs, but I don't know how effective they will really be. As a recent graduate, I don't feel like I am very hire-able for most of the positions I am finding in scientific fields. Honestly, the point of not going to school for the next year or so is to gain real world experience IN MY FIELD. Getting a mall job is not the job experience I am looking for. I've pretty much given up on normal job search websites for my particular field, or any scientific field in general. I've been mostly focusing on looking at individual organization's websites, and the government job page, usajobs.gov.
It doesn't feel like things are coming to a close here in Corvallis, but they are. CJ and I are leaving Oregon in exactly two weeks. Ugh. That makes me feel like I should go get more things done, like packing and putting up furniture on Craigslist, and working and oh god....