For Christmas, a bunch of our Maryland friends got together and got CJ and I a giftcard to IKEA. And by giftcard, I really mean Ariana is holding on to $125 in cash for us for the purpose of buying a couch. I guess they didn't have a chance to get an IKEA giftcard, but that was the intention. Anyway, CJ and I drove up to White Marsh to check out the IKEA there. It was my first IKEA experience. Oh My GOD, the place is HUGE! It was kinda fun to see all the miniature rooms set up...but the warehouse part frightened me a bit. It was kind of barren, and at points I felt like CJ and I were the only people there. It was weird. But we went yesterday for a specific reason...there was a loveseat that was on sale for $99 on Sunday only. So we bought it. YAY! Mission complete.
Except that one of the pieces of the frame is broken...and one of the covers is missing half....so I get to go back tomorrow. I will actually be in the area for an interview, so I called them that same day to let them know I would be coming in for an exchange, and to make sure they would have it in stock. So maybe tomorrow we will have a loveseat! We are slowly furnishing this apartment. Someday it will be a real home! I still haven't bothered to hang anything on our walls. I just haven't decided how I want to do it...and I don't have a hammer. Lol.
So my interview tomorrow is something I found on Craigslist. I think I already blogged about it, so yeah. There's nothing new to add, except that the interview is tomorrow. I will also be filling out an application that day too. Basically, it's full time, which is a plus, but if the pay rate isn't great, I'll be peacing out.
I am tired of the mall and tired of working two part time jobs. It's worked so far because CJ and I have needed to carpool. We still will, so I am not sure how it will all work out in the next month, but it's gotta change. It's time for retail to stop. I'm over it.
The book I am reading right now is really strange. It's interesting, but I don't know how I feel about it.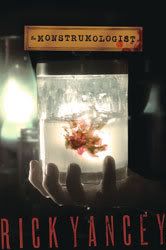 The writing style is intriguing, but it's really quite gruesome at times. It's kind of creepy, in fact.
BTW, I love getting advanced copies of books. And this book is PRETTY. It's hardcover, and as you can see from the image above, a very eye-catching image.
I FINALLY used my giftcards to buy an external hard drive from amazon.com. Now I am just trying to figure out how to get UPS to LEAVE THE DAMN THING IN THE BUILDING. It's under $100, the building has a key entry, but they must not have a key. It's obnoxious because the mail man has a key and leaves USPS packages inside the door all the damn time. They are going to try and deliver the package tomorrow...but I won't be here then either. So I will go to the website and tell them what to do. They didn't actually leave a UPS delivery attempt notice the first time, I just got an e-mail from amazon.com. WAY TO GO UPS. Failpile.
Anywho, I should probably go to bed. CJ is staying at his parent's tonight, as he has work in Annapolis at 6:30 am, and I have an interview in White Marsh at 11:30am (THE OTHER SIDE OF BALTIMORE FROM ANNAPOLIS)....so he's doing his own thing and I get to sleep in this cold ass apartment all by my lonesome. This is when I wish I had a dog to cuddle with. Or a space heater.