CJ had Tuesday off, so I managed to cut out of lab a bit early. We ran some errands and got some u-pick blueberries. I had been wanting to get some blackberries, as it is the season for them, but I am not sure where to pick them here in Corvallis. There's some down by the park we live near, but I have no idea if they spray them or not. Even if they don't, there's plenty of dogs and homeless people to make you wary of the healthiness of that fruit.
Even so, you can't help but walk into the clouds of fruity perfume those vines let off and not be tempted to eat a berry or two...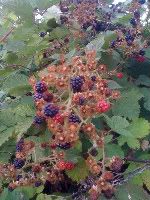 But I had to settle for frozen blackberries and fresh blueberries instead. Oh well.
Beth, my co-worker for the summer, had mentioned awhile back that she wanted to learn how to make pie. I offered to let her come watch when I made some, so I finally called her over and set to work. I ended up making a blackberry peach and a blueberry peach pie.
The blackberry pie, as you can see, is going quickly. I only made these Thursday night!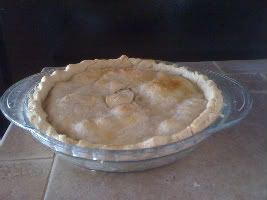 That's the blueberry pie, which has yet to be touched. It's only CJ and I right now though. Ben is coming home from Philly tonight, and his sister Liz will be here sometime before he gets back. I imagine we'll all be eating pie tonight.
I've been working on finishing up my last few art pieces for my independent study. I am working on beadwork projects, done onto a screen printed background.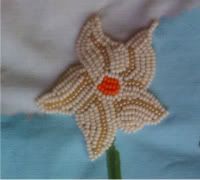 The first one I finished is a daffodil. I'm mildly pleased with it.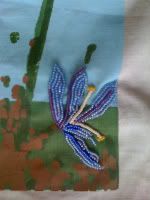 This one is the original design, which is a camas flower. I'm not super happy with it, as the coloring seems more sporadic than I intended it to be. I actually like the photo of it better than I like the actual piece. Since I decided I didn't like the attempt at shading in this one, I've started another. I simply need to finish that one, finish the original sketches for the design work, write an artist statement and I'm done. I should have a degree or two shortly!
Hooray!